The Institute of Chocolate Tasting was founded by Martin Christy of Seventy%, UK, Monica Meschini, Italy and Maricel Presilla, USA.
Martin Christy
Seventy% (United Kingdom)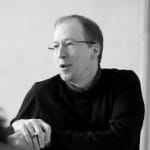 Martin Christy is Founder and Editor of fine chocolate review website Seventy%. Martin is a leading voice in the fine chocolate industry, passionate about the promotion and preservation of fine chocolate and fine cacao and supporting those who produce them.
Having grown up eating traditional British 'candy' type confectionery products, Martin discovered real chocolate in the early 1990s, in line with his interest in finer, healthier food and its sources. A growing obsession with the origin and variety of fine chocolate led him to found Seventy% to raise awareness of the quality and sourcing of the chocolate we eat, and to help create a movement to rediscover chocolate as a complex, ancient, beneficial and spiritual food. Seventy% now features over 600 reviews of chocolate bars from around the world and hosts an international panel of reviewers.
Since founding Seventy% in 2001, Martin has travelled extensively, visiting cacao plantations and meeting with the world's top cacao and chocolate producers. Martin also runs Seventy%'s 'Slow Chocolate' sensory taste workshops and tasting events and is a consultant to the fine chocolate and cacao growing industries worldwide.
Martin is Judging Director of the International Chocolate Awards, which he founded in the UK with Kate Johns of Chocolate Week. He is also Acting Chairman of the new fine cacao and chocolate industry association, Direct Cacao and is a member of the Heirloom Cacao Preservation Initiative Tasting Panel and is a panel member of the Cocoa of Excellence competition.
Martin is also a freelance writer for UK magazines and web publications, and has contributed to several books about fine chocolate.
Monica Meschini
Chocolate/Tea Taster, Sommelier (Italy)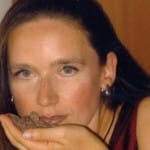 Monica Meschini was a born a curious gourmet. This led her to study a thesis on Indian cuisine in 1987 and become a member of the 'Association Cordon Bleu' and train as sommelier. In 1995 she was a founding member of the Chocolate Society. This inspired the birth of the world's first chocolate-themed venue called "Hemingway" in Florence 1996. In 1999 she became President of Italian Tea Club, and in 2000, The TeaTeam, organising courses with experts Gilles Brochard and Jane Pettigrew. She wrote articles for Italian magazines on French and English tea, chocolate and confectionery.
Collaborating for 20 years with Eurochocolate at the Chocolat Salon and the Chocolate Show in Paris, Copenhagen, London and Tokyo. Her tastings have been attended by over 150,000 people. She collaborated in the guide of the Sweets of the Italian Touring Club, on the jury of Eurochocolate Award of Perugia and President of the jury at Eurochocolate Modica Award.
In 2012 she began as Co-Founder and Partner of the Italian / Mediterranean International Chocolate Awards and Co-Founder of International Institute of Chocolate Tasting. And in 2015 Co-Founder of The Tea Tasting Institute with Gilles Brochard.
Today she continues to collaborate with major international hotel chains for quality control and organising events and training and is tutor chef for The European Bachelor Course at Cordon Bleu School.
Maricel Presilla
Chef, Restaurateur, Author (United States)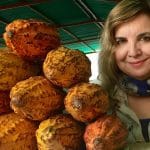 Dr. Presilla combines the high academic standards of a professional historian driven by a life-long love for teaching with a cultural anthropologist's focus on rigorous field work. As a James Beard award-winning chef with decades of research and field work in cacao farms throughout the Americas, she brings a unique hands-on perspective to the sensory understanding of cacao and chocolate in a wide range of uses.
Dr. Maricel E. Presilla, a descendant of cacao farmers from the eastern mountains of her native Cuba, has been working on fine cacao and chocolate for the last thirty years. Her seminal book The New Taste of Chocolate: A Cultural and Natural History of Cacao with Recipes (Ten Speed Press) in its 2000 and revised and expanded 2009 editions inspired countless chocolate lovers, makers, and farmers to look deeper into fine cacao from Latin America. This was the first book of its kind to visually present a thorough overview of cacao varieties and their individual flavor profiles from a first-hand perspective and within a serious historical framework with chocolate recipes calling for specific origins and percentages instead of using generic terms like bittersweet or bitter that mean little to cooks.
Trained in Spanish and Latin American history and cultural anthropology in New York University, where she obtained a Ph.D. in history in 1989, Dr. Presilla combines the high academic standards of a professional historian driven by a life-long love for teaching with a cultural anthropologist's focus on rigorous field work. She has taught history at New York University and was the recipient of the prestigious Gothold Lessing Post-Doctoral Fellowship in History and Poetics at Rutgers University, where she taught medieval history and also created courses on culinary history. She continues to be actively engaged in public speaking about food, chocolate and horticulture at scholarly and trade events at the Culinary Institute of America, the Fairchild Tropical Botanic Garden, New York Botanical Garden,  the National Central Library of Florence, the Northwest Chocolate Festival in Seattle, Chocoa in Amsterdam, the Salon du Chocolate in Paris, the Chocolate Festival in London, Hankyo's  Chocolate Festival in Osaka, the Smithsonian Museum of American History, Miami Dade College, Harvard, Princeton University, Yale University, and UCLA, among others.
An award-winning author, culinary historian, chef and restaurateur, Dr. Presilla is widely recognized as a pre-eminent expert on Latin American cuisines, cacao, and chocolate. She has pursued major research in agriculture with emphasis on a number of tropical crops besides cacao: staple plants such as yuca and starchy vegetables, vanilla, and most recently mangos. In 2013, her magnum opus, Gran Cocina Latina: The Food of Latin America, was honored as Cookbook of the Year by the James Beard Foundation and Best General Cookbook by the International Association of Culinary Professionals. She was named the Beard Foundation's Best Chef-Mid Atlantic region in 2012 for her work at her restaurant Cucharamama (she is the first Latin American woman chef to win this honor in the entire region), and was inducted into the prestigious Beard Foundation cadre of outstanding US food professionals Who's Who of Food and Beverage in America in 2015.
Dr. Presilla has been nominated for Beard Foundation journalism awards for her work in Saveur magazine, where she was a contributing editor. For several years, she was a food columnist for the Miami Herald, writing a column entitled Cocina focusing on the foods of the Americas and her work and recipes have been featured in the Food Network biopic At the Table with Maricel Presilla, NPR, the Martha Stewart Show, The Splendid Table, Eater, Rachel Ray Every Day, and major publications such as The New York Times, the Los Angeles Times, Gourmet, Food & Wine, Taste, Country Living, and Food Arts, which honored her with its Silver Spoon award in 2009. She has also authored an illustrated series on the indigenous cultures and cuisines of Latin America for Henry Holt, including a book on the Christmas traditions of the Hispanic Caribbean, and a recent encyclopedic horticultural and culinary compendium on an iconic Latin American staple, Peppers of the Americas: The Remarkable Capsicums that Forever Changed Flavor (Lorena Jones Books/Ten Speed Press), the winner of the 2018 reference and technical category award of the International Association of Culinary  Professionals, the largest organization of culinary professionals in the world. She has also contributed entries on chocolate for the Oxford Encyclopedia of Food and Drink in America and articles on the pre-Colombian history of chocolate in the Americas and single-origin chocolate for the massive encyclopedia, The Oxford Companion to Sugar and Sweets.   She is also interested in gender issues and has written about Maya women in cacao and artisanal chocolate making in rural Guatemala for the Miami Herald  and Yemek ve Kültür (Food and Culture).
Dr. Presilla's work in Venezuela in the 1980's and 90's and her involvement in farm revitalization, heirloom cacao sourcing, and cacao and chocolate marketing at the helm of her Gran Cacao Company contributed to country branding in Venezuela and helped popularize the single-origin movement in the US, bringing attention to the importance and quality of fine Latin American cacao and chocolate.
She continues to educate, support, and energize cacao farmers and small chocolate makers in Latin America and around the world from her platform as a co-founder and Americas Director of the International Chocolate Awards, which began in 2011.  The Awards is the largest independent fine chocolate competition in the world. Judging over 3000 chocolate entries organized in close to thirty categories annually, the Awards has allowed Dr. Presilla to hone in her tasting skills and add to her unique understanding of chocolate styles, changing trends and marketing opportunities around the world.
Dr. Presilla is a board member of the Fine Chocolate Industry Association actively engaged in the organization's educational programming and the Smithsonian Museum of American History Kitchen Cabinet, advising on programming, research and collecting for the Food exhibition.  On September 28, 2928, the NY Big Chocolate Show inducted Dr. Presilla into its Legends of Chocolate program. She is currently working on a third expanded edition of her book The New Taste of Chocolate: A Cultural and Natural History of Cacao with Recipes and a memoir of her decades-long work and travel in the cacao-growing countries of Latin America.