5 to 8 days
20 Apr - 20 May 2022
Milan & Turin regions + online, Italy

€3250

(€2,731.09 + VAT *)
Advanced level course in Chocolate Tasting
* Business/professional price outside the EU. 19% VAT added for EU bookings and non-professional bookings outside the EU
Level 3 – Italian Chocolate Tour
In partnership with our Italian School
We're please to announce our first International English-language Level 3 in Italy, which will be a mix of online learning with the centre-piece a field trip in Northern Italy, based around Milan and Turin and taking in chocolate makers, culinary experiences and immersion in the local food culture.
This 'Chocolate Maker' version of Level 3 is an ideal option for students already working in cacao or cacao countries, who want more focus on developing their chocolate skills and understanding of chocolate making. The course is also designed to cater for those not currently able to visit a cacao country and will include further study of cacao varieties and agronomy in the online webinars.
The field trip will be run in partnership with our Italian school and will be hosted by two of our founders, Martin Christy and Monica Meschini and will include several northern Italian chocolate destinations. The course will include online study webinars and group working before and after the field trip.
The course will be examined with group presentations during the field trip and blind tasting recognition of chocolate tasted during the course, followed by a written exam in short answer format, which will be held after the course has completed.
The course will be for international students and will be taught in English.
Course outline and features
Total course length equivalent to 6 days study
4-night, 3-day field trip around Milano/Torino, see below for full details
Online webinars before and after the field trip
Introductory tasting kit with special 'get to know you' chocolate bars
Take away samples of your own chocolate made by the class during the trip
Interact with international students and alumni
Field trip program
Dates: 5-8 May 2022  – arrive evening 4 May, depart afternoon of 8 May
The field trip will include:
Visit to Packint Chocolate Machines, where we make our own chocolate
Visit to the factory of one of Torino's most famous gianduja makers, Guido Castagna
Visit and sensory session with a high-end ingredients supplier, Pariani plus special lunch
Visit to two Award winning chocolate makers (Castagna and Joyflor)
Couverture sensory session with Valrhona and other examples
All hotels, meal and travel in Italy
A last night special party send-off meal and drink
Plenty of culinary and sensory experiences along the way and good food
Level 3 includes
A total absorption approach, getting to know reference chocolates like they are your friends!
Variety and genetics study
'Build a brand' group exercise
An exam with short written answers (taken after the field trip)
A blind tasting exam, including blindfold identification of different chocolates
Sensory immersion in the local chocolate and culinary culture
Course fee
The full course fee is €3250 per person.
The Early Bird price is available before 25 March 2022 and is €2750 per person.
A 50% deposit is required to secure the Early Bird price, the remainder will be payable by 25 April 2022. The Early Bird deposit is non-refundable in the case of cancellation, due to non-cancellation policies of hotels in Italy at the current time.
The course fee includes:
online sessions before and after the field trip (approx 10 hours learning)
all travel, accommodation and food (excluding alcohol) in Italy during the field trip *
your pre-field trip tasting kit
chocolate and sensory samples during the trip
samples of the group chocolate to take away
exams and certification for successful students
* Excludes travel to and from Milano at the start and finish of the field trip. Alcohol is not included, except where stated. An evening meal is not provided on the 4 May, but we can meet in the hotel bar for a drink.
COVID restrictions
While COVID restrictions seem to be lifting everywhere, you will still need to check for your own situation for travel restrictions going to Italy or within Italy. This is a helpful site that will help you find the current situation for your country of departure https://infocovid.viaggiaresicuri.it/index_en.html . If you are fully vaccinated and boosted you should be ok, otherwise you may have to quarantine on arrival in Italy or have trouble going into restaurants and venues. That said, it's quite possible that some of the tougher restrictions will start to be lifted in the next few months, but it will be up to you to check this.
If you're worried about missing out the cacao field trip experience, we will also be planning more origin field trips once COVID allows, including optional Level 4 modules and other Level 3 programs.
Combine with Sensory Aroma Workshop – 1-2 May 2022, Florence
PLUS we will be holding a very special 2-day Sensory Aroma Training session in Florence 2-3 May, featuring the wonderful Bizzarri apothecary store and laboratory in Florence, an Aladdin's cave of aromas, herbs, extracts and sensory experiences to improve your flavour archetype training. If you join both courses, we will include free travel from Florence to Milan on 4 May. (With a free day in Florence on 3 May). Find out more about the Sensory Aroma Workshop here.
The Level 3 Advanced level course in Chocolate Tasting builds on the Level 1 Foundation and Level 2 Intermediary courses and develops a deeper understanding of chocolate tasting and profiling through advanced sensorial work, following the flavour journey from cacao farming through to chocolate making.
The Advanced course will help you develop an in-depth understanding of the influence of cacao production and chocolate making on the flavour of finished origin chocolate bars, and will include field visits to either cacao farms or chocolate factories and where possible, to both.
The course includes five days of training and tasting, with additional travel time for field trips where required.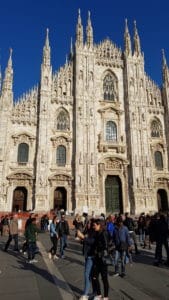 Classroom study and tastings
Advanced sensorial study, tasting and profiling
Relating cacao tasting and chocolate flavours
Cacao production techniques and their effect on flavour
Cacao varieties, recovery projects, latest research
Chocolate production styles, recipes and effect on flavour
Cacao history and development
The cacao trade and commodity market
Chocolate market, branding and origin story
Visit to at least one chocolate factory
Practical sessions working with chocolate
Field trips to cacao region for courses held in cacao countries
Group projects
Networking events and dinners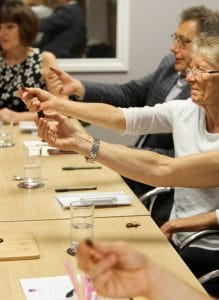 Who should take this course?
Level 2 students wishing to develop their understanding of chocolate taste to a new and cutting edge level and to obtain an advanced grounding in the world of fine chocolate and cacao.